January 5th, 2015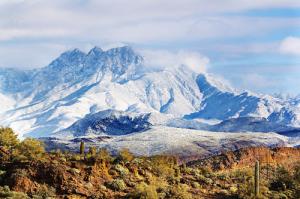 New Year's Day was really beautiful, here in Arizona. A rare snowstorm blanketed the lower elevations the night before, and the morning sun revealed unimaginable beauty! Snow And Desert, my featured photo from the day, displays the awe and majesty of a snow covered mountain as it meets the desert. As the morning wore on, the trees sparkled with drops of water, reflecting the sunlight, and looking as if thousands of diamonds had descended from Heaven. The result was absolutely enchanting! I will be posting more 'snow shots' over the coming days, and I invite you to check my webpage or my Facebook page to see the new additions.
December 26th, 2014
All of my artwork is now available on throw pillows! Check the link to see how beautiful fine art can change your decor! Almost 800 subjects to choose from! Think about matching wall art with decorative pillows, and just to keep things interesting, how about a phone case to match! For the fun and unusual, imaginative person, think art!
November 12th, 2014
I have posted several new pop art photographs over the last few months. The subjects range from buildings, to city scenes, to flowers and parks. Each one displays its own personality. I enjoy the colors, and try for the brightest combination I can muster up! Drop by my website and have a look; then, if you have a minute, let me know what you think.
Each week, I offer three art pieces for a Limited Time Promotion sale, prints on canvas and ready to hang. If you have a special request, let me know. I must adhere to certain size restrictions, but in most cases, we can come pretty close to the size you require.
All of my art is also available on phone cases, so whether you are looking for something special for yourself, or a gift that is not 'run of the mill', fine art might be just what you are looking for!
November 4th, 2013
I was amazed at the symmetry in a decorative cabbage that I found at a nearby nursery yesterday! The fuchsia pink primary color is offset by a, well--cabbage green, and the veining and intricate shaping of the leaves is unworldly! Click the link to view-----you'll be amazed, too!
May 17th, 2013
My Photo Of The Week is also being offered for a limited time promotional sale (see link below). I chose a beautiful, bright, fuchsia red colored lily, and enclosed it in a black oval frame, to create an art work with lots of impact. The detail and texture displayed in this close up macro photograph makes it a real eye-catcher!
May 10th, 2013
The flower display is amazing this year! Right now the cacti are strutting their stuff by putting forth their best display in years! An early riser will receive a special reward, as many beautiful blossoms come out at night and close shortly after dawn. That is the case for the Night Blooming Cereus cactus that I have titled 'God's Trumpets'. I was struck by the pristine beauty of this flower, and the title rushed over me, before I took the shot! I was fascinated by the long narrow throats, and the way the petals opened into a perfect trumpet shape! Adding to the drama, was the soft sunlight as it touched the delicate face of the flower! I am offering this digital art photograph for this week's Limited Time Promotional sale!
April 4th, 2013
I visited the Boyce Thompson Arboretum, and was delighted to see that spring is up and running! Beautiful flowers are in full bloom, causing the air to be filled with their fragrance. Humming birds were everywhere, fluttering on gentle breezes. I decided to share one of the photos I took that day as my Photo Of The Week. To see more, please visit my website: